EASTERN PRECAST CONCRETE.
The recent boom in construction, kingdom-wide, has stimulated product innovation among the construction industry leaders and decision makers, which has encouraged the high demand for precast products such as; beams and columns, walls and panels, and hollow-core roof slabs. As a result of ETE Group's careful and thorough studies, our Eastern Precast Concrete was born and has become ready to meet these rapidly growing demands amidst a highly demanding market for top quality precast products and increasing market competition.
From the Chairman of the Board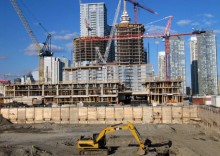 ETE Group of Companies (ETE), is a major and highly renowned business organization in Saudi Arabia, mainly engaged in diverse aspects of businesses laying within the fields of the construction industry. The Group actively responds to the market demand while following the country's call towards industrialization and global competitiveness. A man with a vision, Shaikh Ali Bu-Khamsin, the concurrent Chairman and Owner, has founded Eastern Trading and Contracting Establishment (ETE) in 1971. From a humble beginning, and as a product of his hard-work, will, and sheer determination, ETE has dramatically evolved into what is known today, as ETE Group of Companies, and finally today Shaikh Ali's entrepreneurial vision and dream has turned into a reality.
Initially, the company was registered as a gener al trading company. Founded on the legacy of customer value, customer satisfaction and integrity, ETE has strived continuously to provide to its customers quality products and pr ofessional services, armed with technologically advanced equipment and facilities. By demonstrating these core values with certainty, our company has inevitably earned a concrete reputation as one of the highly respected companies in the kingdom's Construction Industry. Since its inception, and in response to the market needs and stimulus, ETE embarked into new businesses within the framework of the construction sector, resulting in the following conglomerates, ETE Construction, ETE Ready-Mix, ETE Blocks and Cement Products, Ramzi Glass & Aluminium Factory, ETE Real Estate, Sidabul Galvanizing, ETE Crushers and Stone Quarries, ETE Transportation, and the recently established